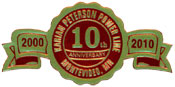 WELCOME TO OUR POWER LINE COMPANY
From our humble beginnings 15 years ago when we employed just 13 people to the more than 50 employees we have today, our mission has been a simple one. We strive to provide quality service and outstanding assistance to our clients in their line construction efforts.
We invite you to look around, browse some of the photographs we have published on this site, read our news releases, and ask us questions.

Karian / Peterson is dedicated to safety in all aspects of the job. We adhere to strict industry standards for both our employees and the equipment we use. Our commitment to proper training and certification has earned us a fantastic safety record and helps ensure efficiency throughout the project.
OUR GENERAL SERVICES

General Services:

New Construction

Transmission
Distribution
Substations

Storm Restoration

Underground/Distribution

Line Truck Fabrication